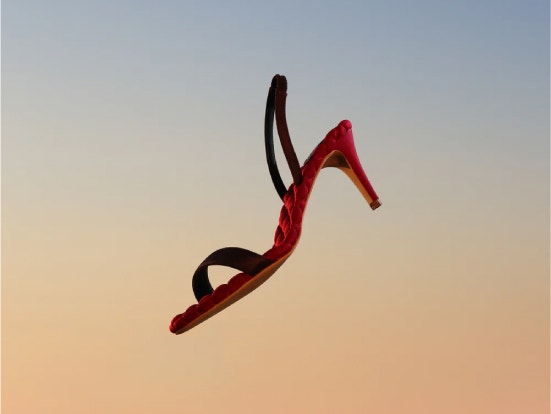 AERA: LUXURY FOOTWEAR WITHOUT A FOOTPRINT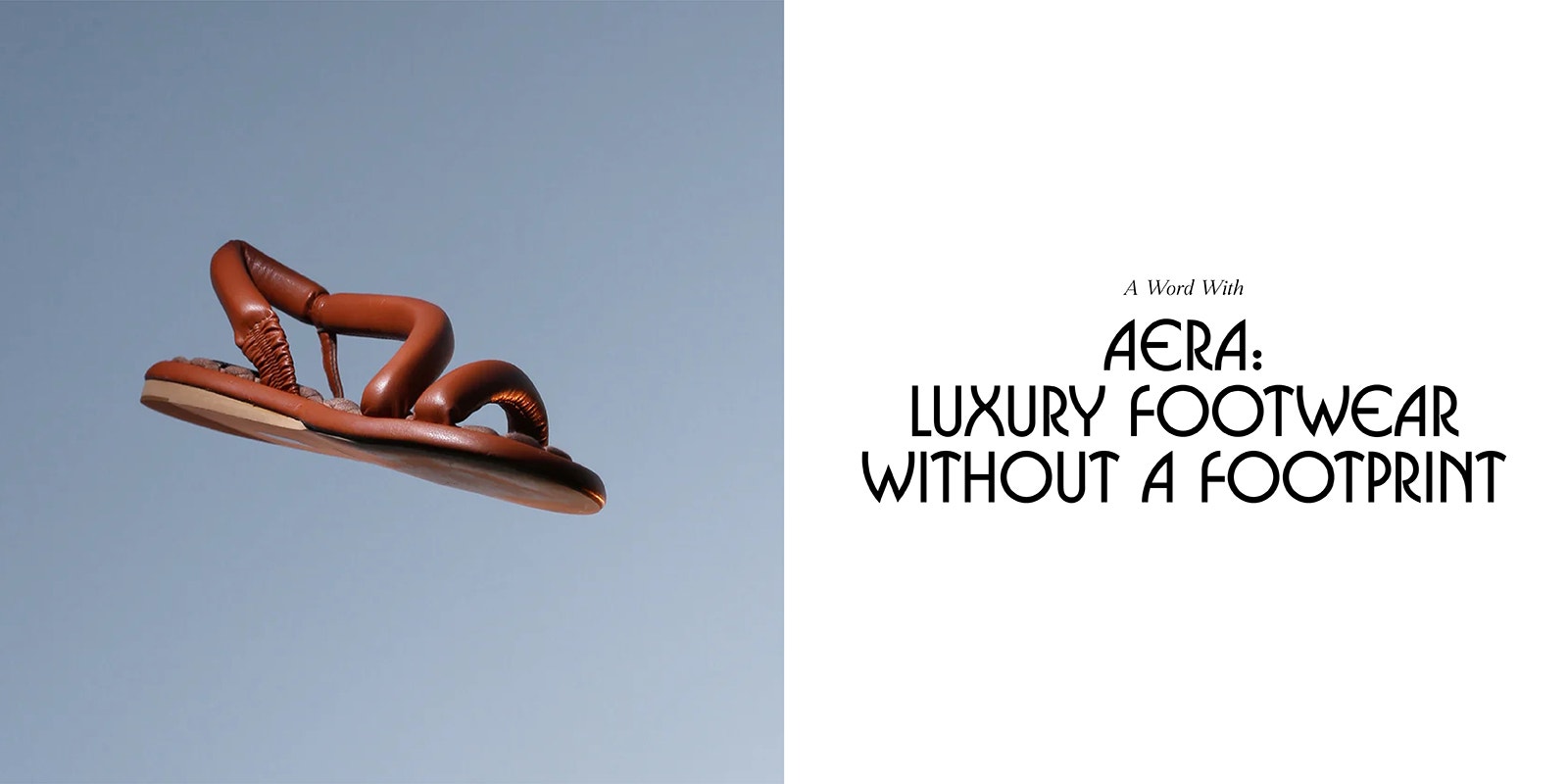 THE WEBSTER: Congratulations on being awarded the Butterfly Mark for your commitment to sustainability and environmental performance. What did this mean to AERA?
AERA: In 2020, right after our launch, AERA was awarded the Butterfly Mark by PositiveLuxury, a unique trust mark presented to luxury lifestyle brands as a guarantee of their commitment to creating a positive impact. The Butterfly Mark is awarded to luxury brands that go beyond compliance and meet the highest standards of verified innovation, social and environmental performance, offering transparency at points of sale and equipping consumers to make more informed purchasing decisions.
AERA has been awarded the mark for a company-wide commitment to sustainability, including: Fair Pay for All, Quality Management, Recyclable Packaging, Reduces CO2, Carbon Neutral (actually, AERA is certified Carbon Negative through SCS Global Services, a leading third party certification agency), Diversity + Inclusion, Fair Labor, Community Investment, Circular Economy.
After our PETA-Approved Vegan and Carbon Negative certifications earned through our 110% sustainable business model, the Butterfly Mark was our first achievement in recognition of our efforts in terms of sustainability and positive impact. The first of many important milestones in our journey.
TW: AERA is the first certified B Corp in luxury footwear. Can you tell us about this major accomplishment?
A: In 2021, AERA became a B Corp certified business, another important milestone in realizing the dream of creating a vegan luxury brand built upon an ethos of sustainability and responsibility for people and our shared planet.
B Corps meet a set of rigorous, verified standards of social and environmental performance, transparency and accountability. In fact, AERA is the first luxury footwear company to join the B Corp ranks along with other changemakers across an array of industries.
"When we first founded AERA in 2019," explains the brand's Co-Founder and president Tina Bhojwani, "we challenged ourselves to create a footwear brand that does things di erently, that sets a new standard for the fashion industry to consider. In building AERA, we've been methodical in our approach, measuring every environmental and social impact. Becoming a B Corporation is a key part of our journey in making impeccably made, luxury footwear that's manufactured with respect for the well-being of others and our shared planet." This is a meaningful step forward in our exploration of what's possible in luxury footwear. B Corp certification marks a beginning — and not an end — for AERA's social and environmental commitment as a business.
If you would like to learn more about B Corp visit bcorporation.net.
TW: Can you share a little bit about your involvement with the Green Trees Reforestation project and BEF Water Restoration Certificates©?
A: With the help of the experts at SCS Global Services (SCS), a leading third-party certification agency, we have identified meaningful o set strategies for carbon and water, and are continuing to work on finding ways to o set our other impacts. We are aware that not all environmental impacts have directly corresponding o sets, and that only carbon offsets are currently certifiable. However, we are committed to finding the right solutions and to doing as much as possible to offset all our impacts.
To date, we have invested in the following projects, always aiming to offset the environmental impacts associated with the cradle-to-consumer lifecycle of our shoes by 110%:
Global Warming Potential (GWP): we have invested in the Green Trees Reforestation project, a project that, to date, has helped to reforest 120,000 acres of marginal farmland in the Mississippi Alluvial Valley. Through this investment, we have offset the GWO of our shoes by 110%, as certified by SCS, by planting over 2,000 trees there. Fresh Water Consumption (FW): we have offset 110% of the fresh water used in the process of making all of our shoes to date, by purchasing BEF Water Restoration Certificates©. We have invested to restore 622,000 gallons of water in critically dewatered rivers and streams in the United States. Please see here for the relevant certifications.
TW: It's amazing that AERA o sets all environmental impacts by 110%. What does this commitment mean to your brand?
A: The next step a er we make our shoes with as little environmental impact as possible, is to scientifically measure this impact, for every pair of shoes we make. We want to know exactly what the impact of each of our shoes is to the planet to o set this impact completely.
In fact, not only are we neutralizing our environmental impact, but we are also going one step further by o setting it by 110%. The "110% o set" philosophy is the core of our commitment, to not only neutralize the impact of our business on the planet, but to also help it heal. We believe in giving back more than what we receive.
TW: How will AERA continue evolving in the future?
A: As part of our commitment to continuously decrease the impact of our shoes on the environment, we are actively seeking new solutions, such as innovations in materials, production processes, and supply chain traceability, without jeopardizing the quality, style, comfort, and fit of our shoes. Also, although we recently launched the brand and our shoes are made to last for a very long time, we are already considering various end-of-life strategies and will share more soon!
---