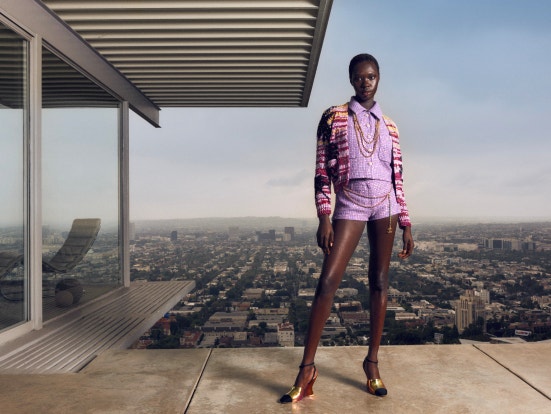 The CHANEL Cruise 2023/24 collection
California Dreaming
The Chanel Cruise 2023/24 Collection
The CHANEL Cruise 2023/24 Collection takes a journey through the decades, inspired by the union of fashion and cinema—where iconic House colors meet vibrant hues.
MODELS DOSHA FOE AND TIERA SMITH PHOTOGRAPHED BY VINCE AUNG
Immerse yourself in Virginie Viard's vision of West Coast sophistication and celebrate all that glitters, from sunrise to spotlight.

Explore an ode to the City of Angels in azure blue crêpe de chine and bold yellow knits. A decadent return to disco is embodied through rhinestone-covered mini shorts, 1960s-inspired suits, and shimmering swimwear.

Reimagined by The Webster at the legendary Stahl House, we shot the collection overlooking the city of Los Angeles with photographer Vince Aung.

Discover a true marriage of cinema and fashion. As an icon of Mid-Century Modern design, the Stahl House is one of Los Angeles' most legendary film sets with a rich history of fame and flashing lights.
CHANEL JACKET – TOP – SHORTS – HEELS – JEWELRY
One hundred years after CHANEL founder Gabrielle Chanel dressed the stars of Hollywood's Golden Era, Virginie Viard presents her ode to cinema.

Rollerblading down Venice Beach at sunrise, enjoying aerobics by the pool—get lost in the bright and bold fantasy of West Coast glamor. CHANEL reinvigorates California cool with tweed bathrobes, shimmering evening gowns, swimsuits, and wrap-around tops.

The fantasy of California is brought to life by heritage craftsmanship. Sparkle and silk meet refined, elegant aesthetics.

Discover the CHANEL Cruise 2023/24 collection at The Webster, now available in stores only.