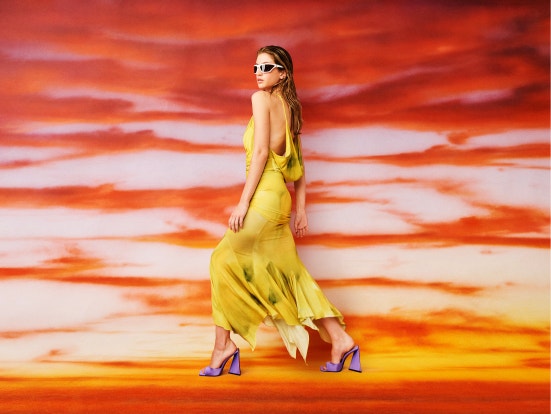 High Summer
HIGH SUMMER
The hottest days of the year demand wardrobes empowered by comfort, function, and iconic camera-ready aesthetics. Indulge in our high summer curation of trailblazing statement pieces and the latest summer sidekicks to complete every look— ensuring that youthrive brightly in intense temperatures.
---
---
---
---
Your sun-caressed skin shines brightest in our refreshing swimwear assortment starring the one piece. Trending cut-out details seen in newly released Jean Paul Gaultier, Isa Boulder, and Christopher Esber flatter your figure and infuse a coy, contemporary feel to shoreside attire. Vibrant summer hues and tantalizing textures contrast against glowly sunkissed skin nourished by your favorite body oil. Oséree's symphonies of sparkles are perfect for the days you crave vintage elegance.
---
---
---
---
---
---
Up-to-the-minute swimwear collections featuring the newest trendsetting drip from Vilebrequin, Versace, Thorsun, and Arrels Barcelona hype up your wardrobe. The latest heat is defined by swim shorts in high-saturation colors and psychedelic prints that outshine previous seasonal releases. Create multifunction day and night looks by layering beach-ready attire over your statement swim trunks. Our staples include distressed graphic shorts from Gallery Dept, exclusive Suicoke sandal collabs, and Amiri trucker hats.
---
---
Not your Dad's hawaiian shirt. The contemporary camp shirt is a menswear classic that's made an unrivaled comeback as 2022's summer uniform. Tropically patterned, breeze-ready button-ups have experienced a hyper-modern upgrade. Not vintage, but nostalgically new and tailored according to today's on-trend silhouette.
---
---
---
---
---
---
Cast a shadow on your red-hot regalia with The Webster's unique selection of exuberant accessories. Serving as your ultimate summer sidekick, accessory styling has gone maximalist with seriously playful visual elements distinguished by nouvelle shapes, whimsical mid-summer themes, and richly colored palettes. We're hooked on oversized fruit-motif rings from Mio Harutaka, new candy-hued pumps from Amina Muaddi, oversized bag silhouettes from Bottega Veneta, and every other add-on under our sun.
---
---
---
---
---
---
Greatest of all time pairings to both classic and ultra innovative ensembles. This season's accessories make a statement with low intensity colors, eye-catching logos, and futuristic outlines. Customize your favorite outfits with endless mix-and-match combinations of sci-fi sleek sunglasses from Givenchy and Jacques Marie Mage, the latest shoes from Balenciaga and Lanvin, and trending pearl and gemstone jewelry from VEERT, Hatton Labs, and M. Cohen. Transition your look to outperform your every activity, only a change of accessories needed.